Sidecar Health announces formation of expert advisory board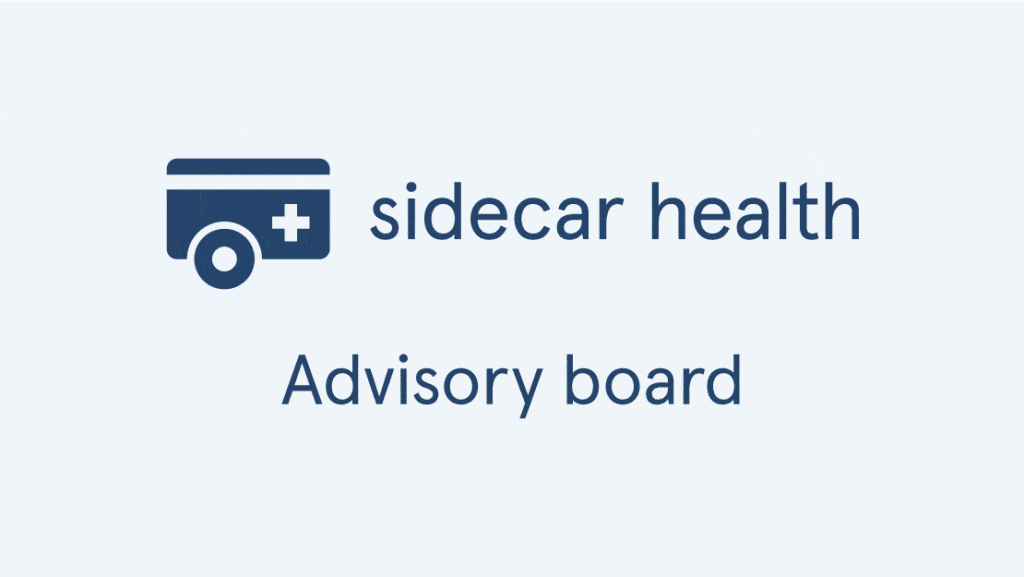 Leaders in Health, Government and Business Align to Advance Company's New "Cash Price" Insurance Model
EL SEGUNDO, CA — Sidecar Health, the company dedicated to providing simple and transparent insurance options based on doctors' cash prices, today announced the formation of its Advisory Board. This group of leaders from academia, public health, government and digital healthcare will guide the company's mission and support its accelerated growth.
"As we expand our geographic footprint and explore new products based on cash price healthcare, we will be joined by leaders from a diverse set of institutions," said Patrick Quigley, CEO of Sidecar Health. "Their influence, thought leadership, policy insights and experience across consumer health and the healthcare industry will help frame Sidecar Health's offerings in a way that will benefit consumers."
The first members in the Sidecar Health Advisory Board include:
Jennifer Kent, MPA
Jennifer Kent has more than fifteen years of extensive health administration and policy experience in California that spans over three gubernatorial administrations and encompasses both private and public delivery systems. As Director of the California Department of Health Care Services, Jennifer oversaw the second largest public healthcare system in the nation with an annual budget of over $100B and serving approximately 13 million Californians. She also brings her experience in the private sector as a lobbyist, consultant and association executive.
Senator Dean Florez
Senator Florez served as a California State Senator from the 16th Senate District from 2002 until 2010. He is the founder and CEO of Balance Public Relations, a full-service strategic consulting firm that supports private and public clients where innovation and regulation intersect. With over three decades of experience and his prior service in the California Legislature, he is an expert at guiding established and startup tech companies through regulatory processes and spaces.
Jeff Fusile
Jeff has spent more than 30 years as a successful leader in the healthcare industry. He has a broad range of knowledge gathered from 22 years as a strategic management consultant retiring as a partner from PwC in 2011, 4 years as CFO of the Commercial and Specialty Business of Anthem, Inc., a $40B+ organization, and nearly 4 years as the President of Blue Cross and Blue Shield of Georgia, an organization serving the health insurance needs of nearly 3 million Georgians. Jeff now serves as the President of ExamMed, an award winning virtual care hub, where he is focused on helping physicians grow their practices and prepare for the future of healthcare.
Anne Wojcicki
Anne Wojcicki is the CEO of 23andMe, which she co-founded in 2006 three years after the first human genome was sequenced. Her goal was audacious: to help people access, understand and benefit from the human genome and fundamentally change health care in the process. Under her leadership, 23andMe now provides the only personal genetic test with FDA authorization to deliver health information directly to consumers.
Brian Blase, PhD
Dr. Brian Blase is CEO of Blase Policy Strategies, LLC and a senior fellow at the Galen Institute and the Foundation for Government Accountability. From 2017 to 2019, Dr. Blase served as a Special Assistant to the President for Economic Policy at the White House's National Economic Council. He has worked for key congressional committees in both the U.S. House of Representatives and the U.S. Senate as well conducted research and analysis at several public policy organizations.
Professor R. Lawrence Van Horn, PhD
Professor Van Horn is Associate Professor of Management (Economics) and Executive Director of Health Affairs at Vanderbilt University. A leading expert and researcher on health care management and economics, Dr. Van Horn's current research focus centers around the shift to consumer purchase of health care and the impact it will have on new delivery models. His research has appeared in such leading journals as The Journal of Health Economics, the New England Journal of Medicine and the Harvard Business Review.
How Sidecar Health Works
Sidecar Health's disruptive insurance product works on the straightforward principle that everyone has the right to know the fundamentals about their healthcare, and to pay only the "cash price" for the services they need. Members receive a fixed benefit amount for any of the 170,000 medical procedures and prescriptions that Sidecar Health covers and can see exactly what their benefit amount is through the Sidecar Health app. The result is a 40% savings on healthcare services compared to insurance-negotiated rates, without network restraints or surprise bills. Members also receive a Sidecar Health payment card, which they can use to pay for medical services at the point of service.
Sidecar Health is now available in 16 states, and will launch in additional geographies during 2021.
About Sidecar Health
Sidecar Health is changing health insurance. Unlike traditional insurance, which sits between the patient and the doctor, members pay for care directly when they receive it using the Sidecar Health Visa card. As a result, members can see any doctor, all coverage is transparent and members save 40% compared to traditional insurance. We believe it's health insurance the way it should be.
Founded in 2018, Sidecar Health has raised more than $175 million to date from Drive Capital, BOND, Menlo Ventures, Tiger Global, Cathay Innovation, GreatPoint Ventures and Morpheus Ventures. For more information visit: www.sidecarhealth.com.
Media Contact
Want to know how much you can save with Sidecar Health? Enter your zip code to find quotes in your area.