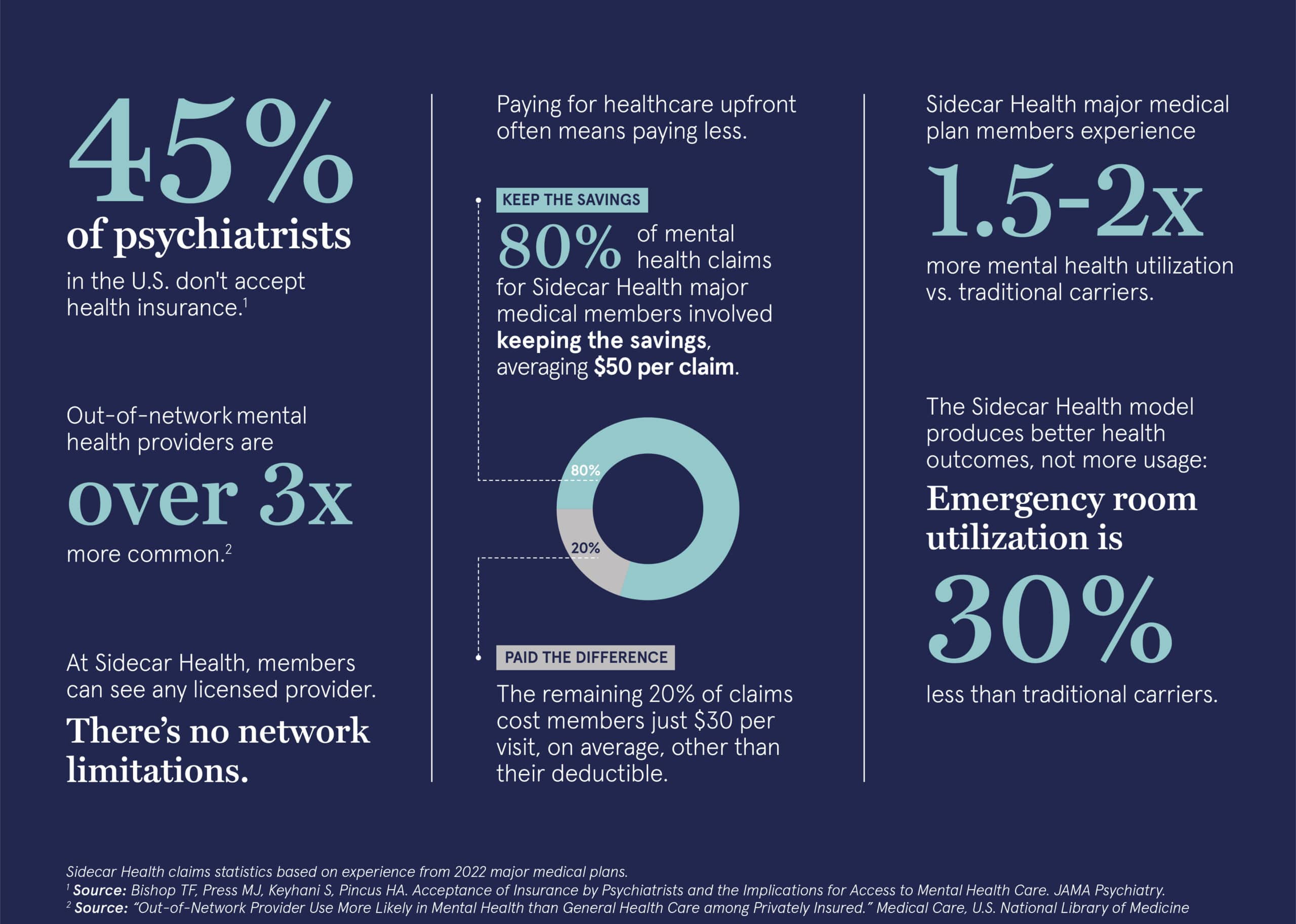 If there's anything we've learned in the past couple of years, it's that Americans need accessible mental health services more than ever. According to Mental Health America, 20 percent of adults experience mental illness — that's nearly 50 million Americans. The data indicates that we need to make accessing mental health care and support a priority.
Some strides have been made toward providing mental health benefits in response to the rising demand, but accessing mental health care still remains difficult or impossible for many. Unfortunately, the lack of access to mental health care continues to reverberate, and the 2021 State of Mental Health in America report confirms mental health in the U.S. continues to worsen.
Rising demands have pushed this sensitive topic and the ever-increasing need for care to the forefront of a national conversation about what needs to change in our approach to psychological and mood disorders in the mental health care system. However, finding the proper care to meet today's needs remains difficult with antiquated systems in place. In fact, despite the growing need for mental health care services in the U.S., accessing care is becoming increasingly difficult.
This widening gap results from high out-of-pocket costs and scarce in-network options. Combined with rising demand, these barriers have resulted in shortages of mental health professionals and unreasonable wait times between making an appointment and receiving care. Recent data from the National Alliance on Mental Health shows that over half of survey respondents with mood disorders are prevented from trying a treatment due to cost.
The issues surrounding access to care, out-of-pocket costs, in-network options, the national mental health provider shortage, and wait times for treatment must be remedied. Fortunately, recent years have seen innovative coverage models enter the market, including Sidecar Health which runs on an instant-pay non-network model. While traditional models limit mental health providers to narrow "in-network" lists, non-network models allow patients to see any mental health professional they choose, regardless of whether the provider accepts insurance or not, and pay their self-pay rates. Patients can compare rates to their plan benefits and choose the best option for themselves.
Mental health providers also benefit from a system where patients can pay at the point of service. There is no distinction between "in-network" and "out-of-network," with any mental health provider that accepts cash-payment available to members. Instant-pay eliminates the backend time spent negotiating with major insurance companies, waiting for prior authorizations, or resolving billing disputes – allowing providers to get paid more quickly while reducing overhead, allowing additional patients to be seen in a timely manner. These innovative forms of insurance remove many of the prevailing system's drawbacks, but there's still work to be done to create a better mental healthcare experience for everyone.
The cost of care
Most individuals rely on insurance as the primary resource to cover medical costs. Unfortunately, 45 percent of psychiatrists in the U.S., mainly those in private practice, do not accept health insurance. Due to this disconnect, using out-of-network providers for mental health is over three times more common than in other medical care settings. This lack of coverage and care options means patients must go out of their way to find a physician who accepts their insurance. Many patients either shoulder the costs themselves or become part of the half of U.S. adults who have postponed or skipped care because of cost.
Due to many factors, the number of individuals seeking mental health services through referrals has doubled, according to a survey by the American Psychological Association. This influx of patients seeking treatment is resulting in the shortage of care providers and long wait times currently plaguing the healthcare system. Even if patients with traditional insurance can find an in-network provider accepting new patients, it is still difficult to secure a one-time appointment, let alone to be seen weekly, which is essential for patients with depression and other mood disorders.
The instant-pay non-network model eliminates many of the hurdles facing patients with traditional insurance. Under this model, patients can compare prices between providers against their benefit amounts and schedule an appointment with any licensed practitioner in their area without network restrictions, referrals or prior authorizations. With Sidecar Health, members know what their plan pays upfront and when providers charge less than what their plan pays, members can keep the difference. The impact? Over 80 percent of Sidecar Health major medical mental health claims in 2022 involved members keeping the savings, averaging approximately $50 back in savings each time they saw a mental healthcare provider. The remaining 20% of claims cost members just $30 per visit, on average, other than their deductible.
Limited access to care, provider shortages and delays in mental health treatment
As the need for mental health treatment continues to rise, the gap between providers and patients widens. According to the Health Resources and Services Administration, 149 million Americans live in federally-labeled Mental Health Professional Shortage Areas. This deficit is due to increased demand for mental health services and a culmination of issues within traditional insurance models. Inadequate negotiated compensation rates for mental health professionals and increased administrative work associated with insurance claims compared to other medical practices also contribute to the shortage of mental health practitioners.
This shortage may last through 2025, which is far too long for individuals who struggle to receive care. While telehealth services are another option, sometimes they are not covered by traditional insurance, forcing patients to pay out-of-pocket.
A 2020 survey by the National Union of Healthcare Workers found that 87 percent of therapists said weekly appointments were not available to those who needed them, and 65 percent said they must schedule return appointments further into the future than is clinically appropriate. These delays lead to adverse outcomes in patients who need early intervention as part of their treatment plans, with the most substantial effects associated with wait times longer than three months. California and six other states are attempting to pass laws limiting those wait times to two weeks or less, but there is still a long way to go to improve access to mental health services.
Instant-pay non-network insurance models can provide more immediate access to mental health care services, whether virtual or in-person, by removing network limitations and reimbursing members based on fair pricing allowing members to submit claims instead of healthcare practitioners needing to work directly with the insurer. These models also decrease the strain on mental health professionals by eliminating claims-related administrative work and evenly distributing patient demand, so not a single office or physician is overwhelmed. In these models, providers are paid at time of care and patients promptly receive benefits. Sidecar Health claims are often adjudicated for members within a few days after members submit itemized invoices for their care, avoiding the lengthy delays that are the norm in health insurance claims processing for both providers and patients. This model makes care more accessible from practitioners who do not accept insurance, which expands treatment options and creates opportunities for more personalized care.
Increased access and lowered cost of mental health care
Easy access to mental health services is essential care; mental health treatment reduces the risk of chronic diseases tied to stress, anxiety, and substance abuse, resulting in patients requiring other kinds of medical care 90 percent less frequently than they would otherwise. Governor Mike DeWine is prioritizing expanded mental health services in Ohio to as one way of addressing the issue.
With instant-pay non-network insurance models, patients can simply access care for mental health conditions with cost transparency and shorter wait times for providers of their choice. These new models are disrupting the industry and offering a new pathway toward solving the longstanding gaps and drawbacks of traditional insurance in mental health treatment.
When given the opportunity to choose their provider, patients are three times more likely to take advantage of mental health benefits and seek treatment. These numbers are amplified even further with instant-pay models. For example, with the Sidecar Health major medical plans, mental health utilization is 1.5 to 2 times the level of utilization typically seen with traditional health insurance plans. This doesn't mean Sidecar Health members utilize all types of healthcare more frequently, rather the opposite: for the same major medical members, Emergency Room utilization is 30% less than average levels of utilization for traditional health insurance plans.
There are still far too many barriers to accessing mental health care in the United States. Innovative insurance models, such as Sidecar Health can address these issues by expanding patient choice and giving clarity to upfront costs.
Author: Emily Porter, VP of Government Affairs
About Emily Porter
Emily Porter leads the federal and state government affairs practice at Sidecar Health. After 20 years in Washington, D.C., her close understanding of healthcare policy as well as how to creatively navigate complex political challenges enables Sidecar Health to have a voice with both state and federal public policy makers.
Prior to joining in April 2021, she was a partner at a boutique consulting firm in Washington, D.C., The Nickles Group. As part of the firm's healthcare practice, she advised insurers, hospitals, start-up and pharmaceutical companies to help them achieve success within Congress and the Administration. She also spent a decade working on Capitol Hill in the House of Representatives managing and messaging key issues within the House leadership related to healthcare reform, Medicare and Medicaid.
Emily received her MA in Political Management from The George Washington University and her BA from DePauw University in Indiana.
ABOUT SIDECAR HEALTH
Sidecar Health is on a mission to make quality healthcare affordable and accessible to everyone in the US. We believe in a world where you have the freedom to choose any provider, and pricing is understandable and clear. So, we've rewired health insurance with a modern, intuitive and tech-forward approach that removes obstacles to excellent care and empowers you with the information you need to make smart decisions about your care. Sidecar Health group insurance plans deliver industry leading major medical coverage for mid-size and large employers in Ohio. We insure members in 32 states and growing. For more information visit sidecarhealth.com.
Want to know how much you can save with Sidecar Health? Enter your zip code to find quotes in your area.